Couplers
1. Choose Your Variation
$9.00 – $21.00
View More Accessories
Product Description
Couplers – Overview:
Couplers are used to add extension rods to your Mighty Probe or Hammer Probe setup, making the probe bar longer.  If you use this coupler with an extension rod you can make the Mighty Probe or Hammer Probe longer.  This allows the probe bar to go deeper into the ground.  Extension rods come in lengths from 30″ to 72," in six-inch increments. You can take off the tip on your Mighty Probe or Hammer Probe and use the coupler to join an extension onto your current rod.  Each are made of high strength alloy steel.
Compatibility:
Couplers are designed to fit different diameters of probe rods and each has a different shape that can be picked according to the needs of the user.  Please make sure to measure the diameter of your rod to make sure the coupler size is correct.  The couplers that Indepth carries are designed for T&T Tools probe bars, either the Mighty Probe or Hammer Probe assemblies.  Please give us a call if you are having trouble figuring out which coupler to purchase.  You can also refer to the chart below.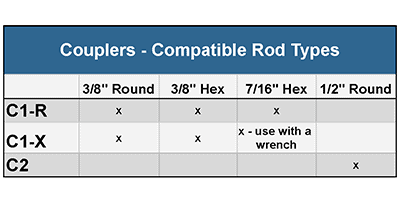 Related Products