Loc3-10 SiS Transmitter
Download technical docs:
$2,385.00
Ships to TX Only
View More Accessories
Product Description
Loc3-10 SiS Transmitter Overview:
The Vivax Metrotech Loc3-10 SiS Transmitter is a Broadband 10-watt transmitter with selectable induction and direct-connection frequencies.  These frequencies range from 98Hz to 200kHz.  It also includes the additional features of SD (Signal Direction), Fault-Find, and true resistance measurement up to 1 Mohm.
In addition, the transmitter provides full support for the new Signal Select and Distortion Alert Line ID features (when used with a vLoc3-5000 Receiver).  In congested locating environments, the SiS feature verifies that the user is connected to the target line.  This is helpful in congested environments because when a transmitter is connected to a target line, the signal will travel down that line until it finds an easier path back.  When this happens, there can be multiple signals radiating from cables and pipes in the area.  This makes it difficult for the user to identify the target line.  With Signal Select on the Loc3-10 SiS transmitter, the operator can use a range of frequencies and still be able to identify the direction the signal is flowing and therefore the target line.  Model Number:  VX219-02
Loc3-10 SiS Transmitter Standard Features:
This transmitter comes standard with Direct Connection Leads, Ground Stake, and a manual.  And it is most commonly used with the Vivax Metrotech  vLoc3-5000 Receiver.  However, it is also compatible with a broad range of vLoc3 Series receivers.
The Loc3-10 SiS transmitter has a two-inch by one-inch dot matrix display with LED backlight.  With this display, the transmitter shows output current, connection type, volts, resistance, frequency, volume, battery conditions, and high voltage warnings.
Available Upgrades:
The Loc3-10 SiS Transmitter can be installed with Transmitter Link (Tx-link), in order to allow for remote operation of the transmitter from the receiver.  This means that with the Tx-Link the user can change frequencies without walking back to the transmitter.  With a clear line of sight, this range is typically around 985 feet.  Tx-Link is compatible with the vLoc3-5000, vLoc3-Pro, vLoc3-9800, and the vLoc3-ML.  However, please note that you will also need to order the transmitter link on the receiver also.
A Li-ion Rechargeable Battery Kit that includes a battery tray and charger can also be added.   Doing so replaces the default alkaline tray that comes with the transmitter.  With this upgrade the user has a more convenient and budget-friendly method of powering your transmitter for the day's activities because they will reduce the purchase of alkaline batteries.  If you upgrade to the rechargeable battery option, you will reduce the transmitter's weight to just 7.15 pounds.
You can also pack the receiver and transmitter in the new vLoc3 Series Utility Locator Backpack.
Features:
Signal Select
Distortion Alert Line ID
Multi Frequency mode transmits up to 3 frequencies simultaneously
Output protection up to 240V AC
Powered by AC or DC external power sources
8kHz Fault-Find mode
a 12x D cell standard alkaline battery tray
or an optional li-ion Rechargeable Battery Tray
Vivax Metrotech Model Number:  VX219-02
Related Products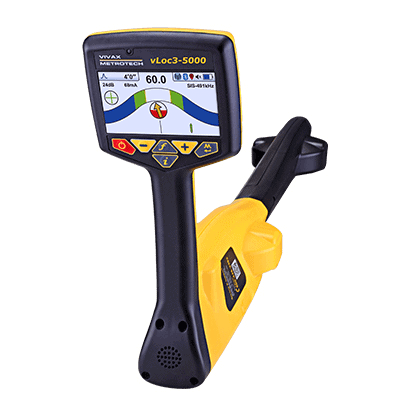 vLoc3-5000
Learn More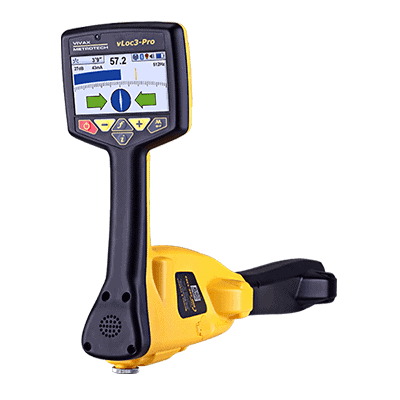 vLoc3-Pro
Learn More