Probe Tips
View More Accessories
2. Your Selection
Product Description
Probe Tips Overview:
Many of our probe bars come with a standard tip included, however, we also additional carry packs of the standard tips and the round, ball-nose tips.  These allow you to keep a sharper point or the round depending on the soil conditions you are working with and what you are probing for.  The probe tips are made with high quality alloy steel and are also heat-treated to be even more durable.
Compatibility:
The standard tips work well with harder soil.  The tapered edges make probing easier.  In addition, the actual diameter of the tips is a little larger than the shaft.  When probing the ground, the tip creates a larger diameter hole than the probe bar shaft so that the shaft does not drag.
The ball nose tips work similarly. However, they allow you to probe more carefully when dealing with fiber optics, gas transmission lines, water lines, and other utilities.  Each of either the round or standard come in three different sizes.   These are available in various diameters as well.  See the chart below for more information.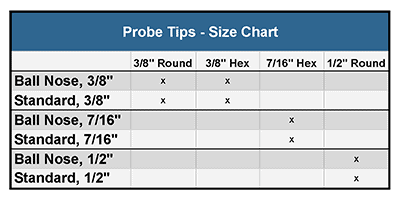 Feel free to call us if you have questions about which products will work for you.
Related Products