VM-585 Service Drop Locator and Metal Detector
VM-585 Service Drop Locator and Metal Detector
Download technical docs:
$2,655.00
Ships to TX Only
View More Accessories
Product Description
VM-585 Service Drop Locator and Metal Detector Overview:
The Vivax Metrotech VM-585 Service Drop Locator and Metal Detector combines the benefits of a utility locator and a metal detector in one product.  It specifically combines the popular VM-550 utility locator and the VM-880 Ferrous metal detector.  With these two technologies, the VM-585 can offer frenquencies 512Hz, 8kHz, 83kHz, and 60Hz and Metal Mode, which are ideal frequencies for most pipe and cable locating.  The high frequency 83kHz is good for locating difficult utilities.  Additionally, the built-in ferrous Metal Mode is good for locating manhole lids and valve boxes.  Designed by Vivax-Metrotech, the VM-585 has advanced filtering in order to reject materials such as aluminum cans or bottle caps and focuses in on ferrous materials.  The VM-585 manual gain allows the user to work close to large metal objects such as automobiles and chain link fences.  Model Number: VX215-08, VX215-10 (receiver, transmitter)
Standard Features:
The VM-585 Service Drop Locator and Metal Detector comes complete with receiver, transmitter, alkaline batteries, direct connection leads, ground stake, manual and soft carry bag.  Although it comes with all of this in the bag, the locator remains lightweight and easy to transport.
Available Upgrades and Accessories:
The VM-585 has the additional frequency of 8kHz Fault-find so that it can be used to detect the presence of ground to sheath faults on cables.   In order to work with this feature, the VM-585 must be used with the Vivax Metrotech VM-510FF Stand Alone A-Frame.
Features:
Utility Locating – 50/60Hz passive power locating frequency and 3 active frequencies
Metal Dectector – will locate through asphalt, concrete, or grass and in temporary conditions such as snow
Dot Matrix Display with backlight
High impact ABS construction with carbon fiber tube
IP54 and NEMA 4 rating
4-Button Operation
Waterproof Mylar Speaker
Vivax Metrotech Model Number: VX215-08, VX215-10 (receiver, transmitter)
Related Products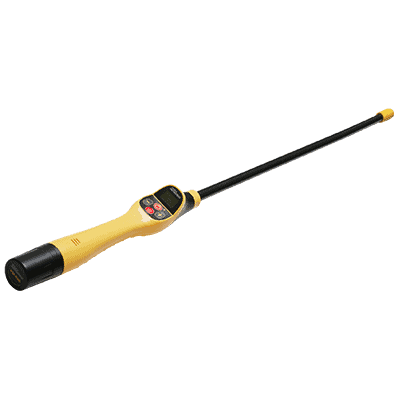 VM-880 Metal Detector
Learn More
VM-550 SERVICE DROP LOCATOR
Learn More